Commercial Trash & Recycling Collection Service

No El Paso area business wants to worry about waste disposal – which is why El Paso Disposal is dedicated to providing worry-free commercial trash and recycling service that's tailored to your firm's needs.
Our local commercial waste service professionals are standing by to help you determine the right size front-loading containers and frequency of service – to fit the needs of your business and your budget. We'll also work with you to choose the ideal location for your El Paso commercial trash containers and help you design trouble-free enclosures.
Our sister company, Southwest Disposal, provides residential and commercial service to many southern New Mexico communities, including Cloudcroft, Hatch, Alamagordo, Doña Ana County and Roswell.
Commercial Dumpster Sizes
El Paso Disposal offers containers ranging from a 2 cubic yard dumpster to an 8 cubic yard dumpster. Our recommendations are based on the amount of waste typically generated by your business. In tailoring your El Paso area commercial waste removal service, we rely industry standards and our professional knowledge gained by servicing thousands of other El Paso area commercial waste customers.
El Paso Disposal provides the following range of front-loader containers to suit your commercial waste disposal needs.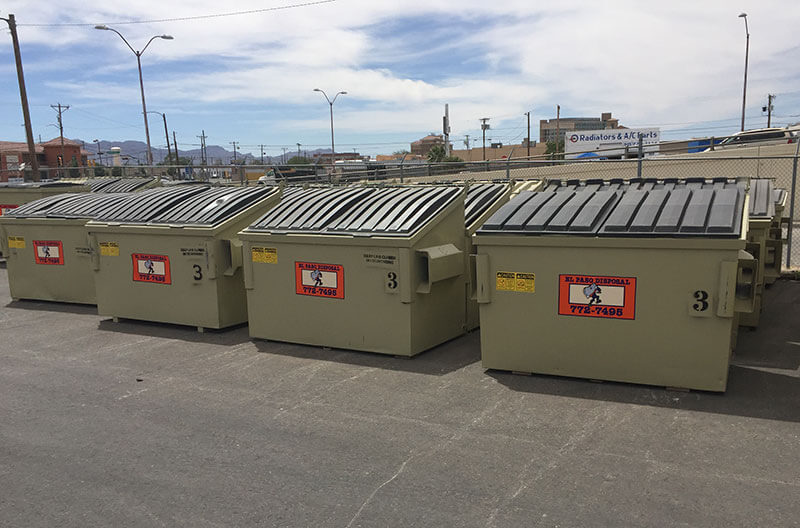 ---
Commercial Dumpster Sizes - Front Load
One cubic yard is equal to four 55-gallon drums, or seven 30-gallon garbage cans. All El Paso Disposal containers are 84" wide including pockets.
Click here to view ENCLOSURE SPECS

| | | | |
| --- | --- | --- | --- |
| Front Load Sizes | Width | Depth | Height |
| 2 Cubic Yard Dumpster | 84" | 35" | 42-1/2" |
| 3 Cubic Yard Dumpster | 84" | 41-1/2" | 54" |
| 4 Cubic Yard Dumpster | 84" | 50-/12" | 59" |
| 6 Cubic Yard Dumpster | 84" | 66" | 59-1/2" |
| 8 Cubic Yard Dumpster | 84" | 66" | 80-1/4" |
---
Commercial Waste Materials
For safety, environmental or legal reasons some waste materials are not allowed in any El Paso Disposal front-loading trash and recycling container.
Acceptable Commercial Waste
Food service waste
General business related trash
Non-hazardous medical garbage
Unacceptable Commercial Waste
Commercial Recycling Materials

Recycling Guidelines in Spanish.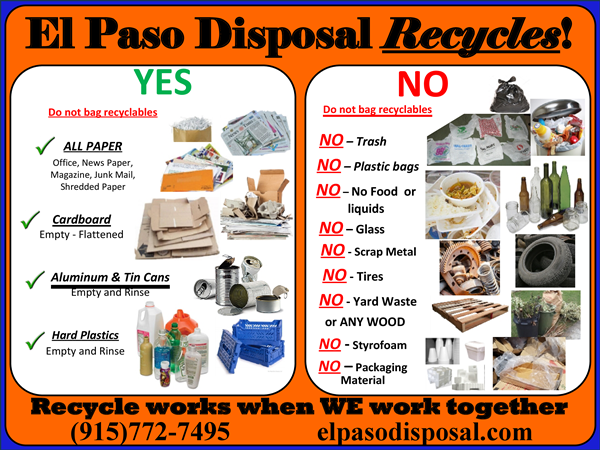 ---
Commercial Waste Compactors
If your business generates a high volume of compactible solid waste – like that of a hotel or grocery store - an El Paso Disposal compactor unit can help you save space, reduce pickup frequency and cut your commercial waste collection costs.
In fact, depending on the materials, a compactor from El Paso Disposal can reduce your volume of waste by up to 80% with minimal handling. That means a single unit can hold up to 400 cubic yards before compaction – that would take a pickup truck up to 200 trips to remove!
Why your business should consider a trash compactor from El Paso Disposal:
Controls odor
Reduces fire risk
No windborne trash
No scavenging in open containers
Reduced insect and rodent problems
No labor required to break down boxes
Prevents unauthorized use of your containers
Saves inside & outside space for disposal storage

Please call 915-772-7600 for Commercial Waste Compactor service.

---
---
Custom Installations
El Paso Disposal can provide cart dumpsters, through-the-wall chutes, hoppers for dock loading, "dog houses" with security locks, insect and animal control devices and full-container indicators.
Self-Contained Units
Designed to store and transport wet waste, these commercial refuse units prevent contamination, comply with public health requirements and improve working conditions. (Ideal for hospitals, hotels, malls, large restaurants and food processing plants. Size: 11' x 35'.)
Detachable Units
The compactor is anchored down in a permanent location with a receiving container that is hauled away and returned. (Ideal for dry waste generated by El Paso area manufacturing plant and heavy industrial materials. Size 11' x 45'.)

Commercial Billing
El Paso Dispoal commercial trash and recycling customers are billed on the first of every month. Payments to El Paso Disposal are due on the 10th of the same month. To learn more visit the Pay Bill button at the top of each page.