Roll-Off Dumpster Service (915)-772-7600

Big jobs call for a big roll-off dumpster container. Looking for a Roll-Off? Look no further - call the EL PASO DISPOSAL ROLL-OFF SERVICE HOTLINE AT 915-772-7600 FOR ALL YOUR ROLL-OFF NEEDS.

El Paso Disposal provides an array of construction waste removal containers and open top roll-offs to suit the waste removal needs of any El Paso area construction site, large business, public event and any residential clean-up or remodel project.

So, whether yours is a small home remodel or a large demolition project, choosing a construction waste roll-off dumpster from El Paso Disposal is the most convenient, cost-efficient, safe and timesaving trash containment option.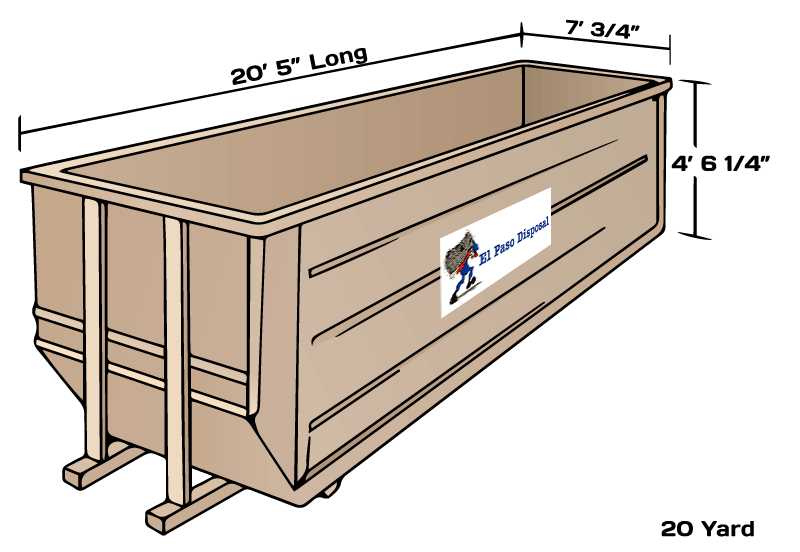 El Paso Disposal Roll-Off Dumpster Service Includes:
Delivery: Initial placement of roll-off at service location
Hauling: Transport of full roll-off to landfill and return of empty roll-off to Greater El Paso roll-off service location
Relocation: Roll-off moved to new location upon customer request
Cancellation: Final haul of roll-off from Greater El Paso job site
Roll-Off Container Sizes
Roll-Off Dumpster Sizes – Open Top
| | | | |
| --- | --- | --- | --- |
| Roll-Off Sizes | Overall Length | Inside Width | Inside Height |
| 10 Cubic Yard | 12' | 7' 3/4" | 4' |
| 15 Cubic Yard | 16' | 7' 3/4" | 4' 6-1/4" |
| 20 Cubic Yard | 20' 5" | 7' 3/4" | 4' 6-1/4" |
| 25 Cubic Yard | 20' 5" | 7' 3/4" | 5' |
| 30 Cubic Yard | 20' 5" | 7' 3/4" | 6' 5" |
| 40 Cubic Yard | 22' 11" | 7/ 3/4" | 7' 4" |
Roll-Off Specifications
Sizes range from 10 to 40 cubic yards
Maximum weight limit for El Paso Disposal roll-off: 20,000 lbs.
Minimum space required for roll-off delivery: 60' x 12'
Minimum overhead space required: 21' x 9"
3 Cubic Yard Dumpster
If you need a container that can be positioned closer to your Greater El Paso job site, ask about our special temporary 3-yard container service. These containers are the solution for smaller El Paso construction jobs and sites.
| | | | |
| --- | --- | --- | --- |
| Temporary | Width | Depth | Height |
| 3 Cubic Yard Dumpster | 84" | 41-1/2" | 54" |
3-yard containers are ideal for preventing windborne debris.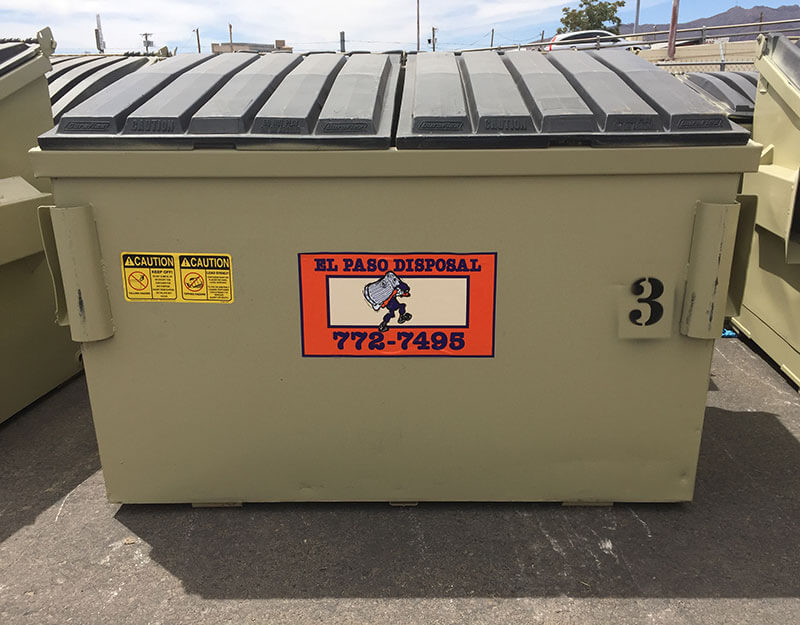 Materials
Acceptable Roll-Off Materials
Bricks and masonry material (20 Yard container only - approximately 1/3 full)
Bulk amount of leaves

Bulk grass clippings
Clean rubble (rock, dirt), (20 Yard container only – approximately 1/3 full)
Clothing
Common garbage
Construction related packaging from builders
Electrical wiring and components containing no hazardous material
Furniture
Mattress and box spring
Metal scraps
Mobile homes and trailers with tires and fuel tanks removed
Motor vehicle glass
Non-asbestos insulation
Painted or coated wood
Plaster and drywall
Plumbing fixture
Plywood
Sheets, towels, pillows or other bedding items
Toys
Trash bags
Treated wood
Trees, brush and sod

Untreated wood and sawdust
Vegetation from land clearing or grubbing

Vegetation from seasonal or storm cleanup
Vegetation from utility maintenance

Wall and flooring coverings
Waste from food consumption at construction or demolition site
Wood pallets
Unacceptable Roll-Off Materials
Appliances (all white goods)
Buckets with paint, solvents, etc.
Computer monitors or other computer components
Drums and containers
Electrical equipment containing hazardous material
Friable asbestos
Hazardous Waste
Lawnmowers with oil and gas
Liquid Waste
Outdoor grills with propane tank
Paint cans
Propane tanks (all sizes)
Spray paint cans or containers
Tires (whole, cut, or baled)
TV's, VCR's, stereos or similar electronic waste
If you have a question or need service, call the El Paso Disposal Roll-Off Container Hotline at 915-772-7600.
Roll-Off Guidelines
Place containers only on a driveway or a concrete slab.
Roll-Offs should never be placed under any power lines; doing so puts El Paso Disposal vehicles and waste collection specialists in unnecessary danger.
Children should be kept away from roll-offs at all times.
No toxic or hazardous liquids and/or flammable items are allowed in your roll-off container.
Load your El Paso Disposal roll-off evenly side to side. Never load roll-off container beyond the height of its sides. Remember that the roll-off must be covered with a tarp when it's being transported. Overfilled roll-offs will not be serviced
When filling with heavy material like dirt, rock, sand, plaster or sod, load roll-off container no more than half full to avoid excess weight.
Roll-Off Billing
Payment terms will be determined upon setup of your Greater El Paso roll-off container job site.